My Blog
Posts for: December, 2017
By Dewitt Family Dentistry
December 29, 2017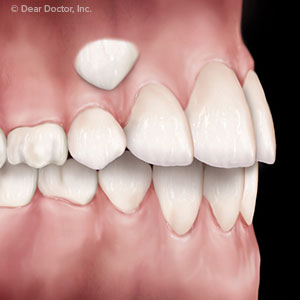 You don't have to be a dental professional to appreciate a beautiful smile. Likewise, you'll also know when something's not quite right with one.
Such can be the case when a tooth fails to erupt properly, causing most or all of the crown to remain below the gum line, a condition known as impaction. Upper canines (or "eyeteeth," for their location in the arch under the eyes) are especially susceptible to impaction: located on either side of the lateral incisors, which are on either side of the central incisors (the two center front teeth).
The upper canines are important both for function and appearance. Working with their lower counterparts they help cut through food as we chew, so you lose some of that efficiency when they don't erupt properly. Impacted teeth are susceptible to abscesses and cysts, and can impinge upon and damage the roots of other teeth. And just as importantly, their absence also disrupts the smile as nearby teeth tend to move or "drift" toward the open space.
Rather than remove the impacted canines as is often done with back teeth, it may be more advantageous for both function and appearance to "coax" them into full eruption. This requires first pinpointing their exact location below the gums using x-rays or cone beam 3-D imaging.
If the teeth are in reasonably good position we must first prepare them for orthodontic treatment by surgically exposing the crown from the gums and bonding a small bracket to it. We then attach a small gold chain to the bracket that extends outside of the gums when we suture them back into place. The chain is attached to orthodontic hardware that exerts pressure on the impacted tooth for several months to "pull" it out into the arch.
This procedure has the best chance of success if undertaken before the end of jaw development in early adulthood. Otherwise, it may be better to remove the impacted canines and replace them with dental implants, followed by orthodontic treatment of other teeth to restore their proper position and bite relationships. In either case, your impacted upper canines don't have to be a problem — we can restore both your mouth function and your smile.
If you would like more information on impacted teeth and treatment options, please contact us or schedule an appointment for a consultation. You can also learn more about this topic by reading the Dear Doctor magazine article "Exposing Impacted Canines."
By Dewitt Family Dentistry
December 14, 2017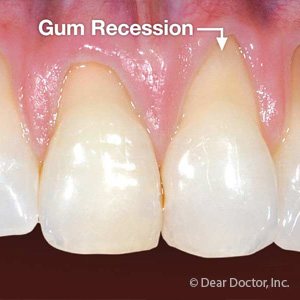 Your mouth is a lot like the Wild West — home to millions of bacteria and other microbes, some of which are definitely not "the good guys." But your teeth are well-protected from these hostile forces and their acidic waste products: with enamel shielding the visible part of your tooth, your gums protect the parts you can't see.
As effective as they are, though, your gums aren't invincible: their greatest threat is periodontal (gum) disease. This bacterial infection arises from plaque, a thin film of bacteria and food particles accumulating on teeth due to inadequate brushing and flossing.
The infected tissues soon become inflamed (red and swollen), a natural defensive response from the immune system. The longer they're inflamed, however, the more likely they'll begin detaching from the teeth. The gums may eventually shrink back or recede from the teeth, often causing them to appear "longer" because more of the tooth is now exposed to view.
Gum recession doesn't bode well for your teeth's survival: the exposed tooth and underlying bone can become even more susceptible to infection and damage. In the end, you could lose your tooth and portions of the supporting bone.
Treatment depends on the severity of the gum recession. In mild to moderate cases, we may only need to perform the standard gum disease treatment of removing plaque and calculus from all gum and tooth surfaces (including below the gum line) with special instruments. This helps reduce the infection and allow the gums to heal and re-establish attachment with the tooth. In more advanced cases, though, the recession may be so extensive we'll need to graft donor tissue to the area using one of a variety of surgical techniques.
Although the right treatment plan can help restore your gum health, there's another approach that's even better — preventing gum disease in the first place. You can reduce your disease risk by practicing daily brushing and flossing and visiting your dentist regularly or when you see symptoms like gum swelling or bleeding. Taking care of your gums won't just save your smile — it might also save your teeth.
If you would like more information on diagnosing and treating gum disease, please contact us or schedule an appointment for a consultation. You can also learn more about this topic by reading the Dear Doctor magazine article "Gum Recession."